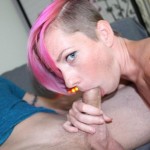 Like a good stripper, Dani Peach knows that the best way to get tips is by offering private dances so when Mike asks her for one, she decides to one up him by giving him way more than just the requested private dance. The punk stripper with funky pink hair grinds against Mike's crouch and then blows his mind away with her awesome cock sucking and riding skills as demonstrated in this insanely hot teen fucking and oral sex episode from Petite18.com

Dani Peach is tall and slim with the kind of body that makes you want to throw a couple of extra bucks on her at the strip club but she's greedy and she wants more than just a couple of extra bucks so she's always on the look out for guys to give private dances to. Her idea of a private dance goes far beyond just stripping to her undies. In fact it involves letting men dip their hard sticks into her wet pussy and even into her mouth, for the right price. Lucky for her, Mike is willing to pay just about anything for some one on one attention from her.
The slutty teen nympho goes down on Mike sucking his cock with all her might until he gets so hard and he just has to be inside her. She then climbs up into his lap and sinks her pussy on his cock raw, with no condom blocking the skin to skin contact. She rides him real good before bending over and letting him fuck her doggystyle and the two go hard at it with Mike even pulling her hair back a little too roughly as he plows deeper and deeper into her cunt until he cums all over the stylish strip landing on her pussy.