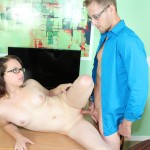 This new episode from Petite18.com should be titled "cum on her glasses" because that's exactly what happens when Jennifer Bliss, a slightly curvy teen with a well trimmed pussy hooks up with a geeky computer tech. She's a webcam model who is uses her pussy to charm men into tipping her but this time around she's the one doing the tipping and it comes as no surprise that her tip of choice is opening her legs up and letting the lucky tech bang her brains out until he splashes his load all over her glasses.

A girl's gotta make money and if that girl is a webcam model, she can't make money if her computer isn't acting right. This is the exact predicament Jennifer Bliss finds herself in halfway through her cam show so she hits up her local geek squad dude who comes right over to her rescue. The naughty brunette teen is horny as fuck and can't resist flirting with him and even though he doesn't flirt back while he works, he's up for a little bit of playing once the computer is all fixed.
He pops his cock out of his pants and moans as the slutty cock-craving nympho latches onto his dick and sucks it real good. Then he slams her on the cold wooden table and slowly slides his dick into her wet hole. He takes his sweet time giving her tight hole a chance to get used to his size and then he starts plowing into her mercilessly. He flips her over into a few more positions and then finishes off by aiming right at her thick black rimmed glasses and spurting his jizz all over them.