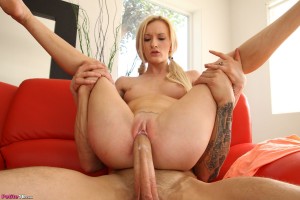 It's safe to say that Skylar Green subscribes to the belief that the bigger something is, the better it is. She likes her lollipops big and her cocks even bigger which is why she's super excited when she spots the massive package Chris is packing in between his legs. The petite blonde goddess can't wait to feel the monster schlong pounding into both her super wet holes and she doesn't have to wait long because the hung tattooed stud rams into her with steady strong strokes that make her cum all over his big cock. You can see close-ups of the teen's cum running down the big cock exclusively at Petite18.com

Skylar Green has got a sweet tooth and not even fingering her butt hole can distract her from the giant candy stick she's sucking on. Fortunately Chris has an alternative for her that's meatier and so much better tasting than her lollipop and the blonde cock sucker agrees to the trade. She pops his big dick into her mouth and the more she sucks on it, the wetter her pussy gets and when she can't take it anymore, she boldly begs Chris to fuck her senseless.
He obliges her by letting her mount him and ride his erect penis while he sucks on her titties and continues to finger her ass hole. He takes things a step further by smacking her until her bare bottom skin turns rosy red and this is what triggers a stream of cum from her pussy. Watching that stream of lady juice drenching Chris' big cock will have you bursting a nut! Doggystyle and a bit more anal play later and the hung stud gets to shoot his load all over Skylar Green's beautiful face!