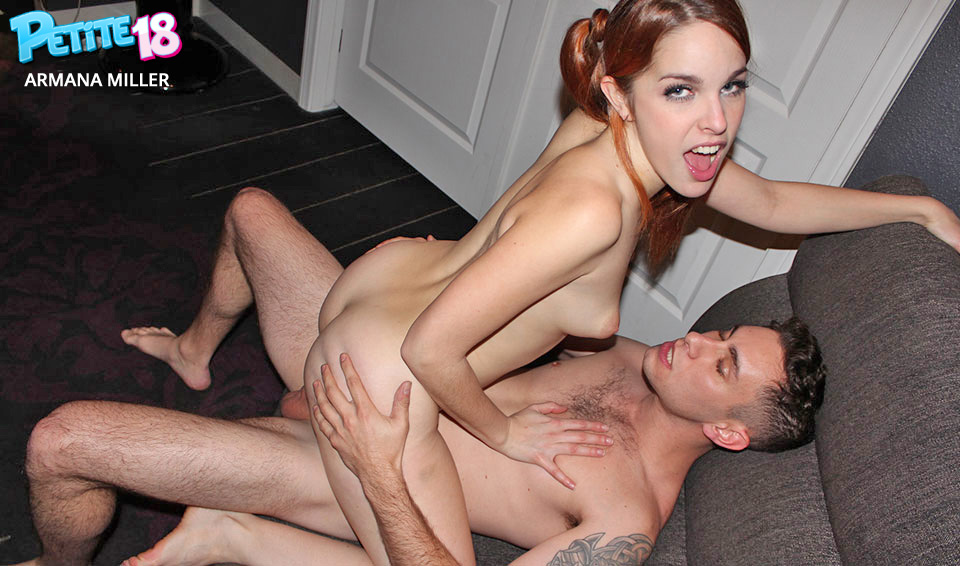 Nothing says welcome to America better than getting impaled on a gigantic hard cock as Armana Miller finds out in this new episode from Petite18.com. The slender teen hottie with a hairy twat just officially crossed into the land of the free and the first thing she masters in her new home is the art of riding a big cock and getting cum deposited into her mouth. Brad is the lucky man who gets to introduce her to the wonderful world of bareback sex and watching her moan as he pounds into all her wet holes will have you grabbing lotion and a towel!
Brad is a conniving man with a bulge in his pants that needs attention so it's pretty obvious that he has less than noble intentions when he offers to help Armana Miller settle into her new homeland. The two start making out on the couch and soon enough, Brad's big cock is jammed in between the petite teen's soft lips and she can barely breathe as she struggles to cram as much of the cock as she possibly can into her mouth.
She sucks it real good, wetting it as much as she possibly can before spreading her legs and letting Brad slide his wet cock into her equally wet tight fuck hole. Armana Miller runs her fingers through her bushy pussy and finds her way down to her clit which she massages as Brad pumps steadily into her and then she straddles him and rides his cock hard until she brings him to the edge of orgasm. Then the hot redhead teen slides to her knees taking his cock from her pussy to her mouth and finishing him off with a magnificent blowjob!