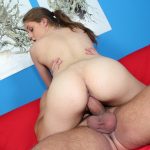 Every once in a while the pussy needs a good pounding and for Ashton Monroe's pussy, that day is today. She meets up with Warren, a much older man who immediately offers to plow into her twat and make sure everything is still working as it should. The sexy teen babe has always had a thing for older men and she's feeling kind of horny too so she sucks Warren's big cock and then spreads her legs wide for a thorough pounding. This video from Petite18.com will leave you breathless, in a good way of course!
Ashton Monroe is interested in a traditional workout but the unconventional workout Warren suggests seems so much more appealing so she abandons her own plans and instead joins the horny man on his adventure. His workout plan involves her flexing her jaws on his big dick, something she does rather effortlessly since she's used to cocks pounding into her mouth. Then she proves just how flexible she is by climbing into Warren's lap and riding his big dick in the reverse cowgirl position.
Warren gets in an arm work out by raising and lowering Ashton Monroe on his erect dick and then he slides her to her side and goes balls deep inside her sideways. She moans and creams the big dick and then she hops back on top of it and rides it hard until Warren pulls out of her and splashes his jizz all across her pretty face!