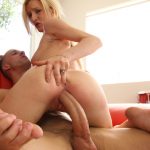 There's no denying that Skylar Green is a horny nympho with an obvious love for massive pricks but even she is not prepared for the kind of man meat Chris is swinging around in between his legs. The sexy blonde hottie thinks he's just going to be a quick fuck but when he pulls out his huge prick, she knows this fuck session is going to be anything but quick. The cock looks too big for her tight pussy but as this hot video from Petite18.com shows, Chris gets her super wet and then effortlessly slides into her.
You can tell the exact second Skylar Green knows she's bitten off way more than she can handle. It's the moment Chris carries her into his lap and lowers her on his erect schlong. Her eyes almost bulge out of their sockets and quickly inhales as her hole tries to swallow the gigantic dick. She's wet as hell so the tip slides in and then her pussy muscles relax and slowly allow in the rest of the big dick. Then the blonde slut starts grinding up against Chris, finally enjoying his fullness inside him.
He smacks her ass until it turns a bright shade of pink and then he flips her over onto her knees and plows into her from the back. Skylar Green moans with each cock thrust and her moan increases when Chris sticks a finger into her ass and twirls it around while simultaneously fucking her. Then he plugs an anal toy into her butt hole which is what pushes her over the edge and makes her cum all over his big dick!