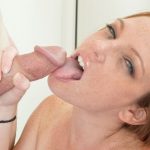 If cock sucking were a real sport, Raine would be the MVP because no one compares to her when it comes to draining cocks. This 19 year old teen cock sucker has got tongue and mouth skills usually reserved for women double or triple her age and she's not afraid to flaunt them like in this episode from Petite18.com where she hooks up with a man way older than her and proceeds to suck his cock so hard right before he returns the favor and then gets to ram repeatedly into her tight pussy.

Raine loves to use her mouth on men and this is evident in the way she latches onto her mature fuck buddy's thick cock as she attempts to make him cum. She licks the cock first, drenching it with her saliva and then lowers her mouth over and takes in as much of it as she possibly can. A slight smile spreads across her face when she feels the thick cock hitting the back of her mouth making her to swallow the mixture of saliva and precum in her mouth.
When she's done orally pleasing the mature man, the teen cock sucker spreads her legs so he can return the favor and then moans as she feels his tongue exploring the depth of her womanhood. When the tongue to clit adventure stops, the older tatted up man pins Raine's legs back and thrusts into her twat bareback until they both cum hard!