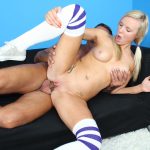 Sunny Marie has always wondered how it'd feel to be banged by her step dad and she gets a chance to find out in this stunning family fucking video that crosses every taboo line imaginable. The sweet blonde knows her mom is away and she's determined to get her holes filled with her step daddy's cock before her mother returns so she sets out to seduce him in her tightest shorts and as this video from Petite18.com shows, he falls for her charming seduction.
Not only does the older man fall for whatever Sunny Marie tells him but he gets aroused at the thought of sticking his dick into some tight and wet teen pussy and its that thought that has him whipping his dick out of his pants. The blonde teen can hardly believe how big the dick is and she's a little worried that it won't fit in her tight holes but she takes a gamble anyway and sucks it hard before bending over for a thorough pounding. Her step dad has been down the fucking track a few times so he knows how to fuck her in just the right way to get her to cum all over his dick.
He starts off by holding her slender hips steady as he buries his dick as far into her as he possibly can. Then he sits back on the couch with his dick standing at attention and watches as Sunny Marie sinks her pussy down on it. After she's had a chance to ride him, the mature man flips her to her back and fucks her so hard and so fast that her tits bounce around wildly. Then he pulls out of her and cum in her mouth and all over her face!