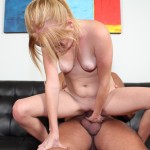 Oh-Oh, Alyssa Hart is in big trouble and she must wiggle herself out of it as soon as possible. The tiny teen hottie caused some serious damage to her step-father's car and she doesn't have enough funds to cover the massive bill but she does have a pussy and mouth she can offer up in exchange for getting out of trouble and that is exactly what she does in this brand new teen fucking episode from Petite18.com. The recipient of her services is none other than her horny and much older stepfather and once he cums, he writes off her bill for the damage as paid in full.

For the record Alyssa Hart is not the most responsible teen around and since accidents do happen, she finds herself at the center of a stern talk as her stepfather confronts her about the damages to his car and the cost of repair. Her face drops at the sight of the figure on the piece of paper because she doesn't have that kind of money so she offers up her pussy instead and not surprisingly, her stepfather agrees to pussy and oral services as a means of payment.
The slutty petite teen undresses and slowly starts tugging her stepdad's cock. It gets harder with each tug and when it's all nice and erect, she shoves it inside her mouth and sucks it making sure to lick every bit of pre-cum off it before hopping into his lap and sinking her wet tight pussy down on his big cock. She rides him both froggy style and in the reverse cowgirl position and then he fucks her doggy style and sideways before shooting his load all over her!