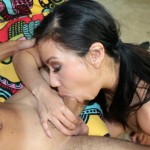 Kimmy Lee is not just a screamer but she's a creamer too as her date quickly discovers in this episode from Petite18.com when the nubile nympho screams while he pumps his dick into her and then she creams his dick with her lady juices drenching every inch of it. There has really never been a more beautiful sight than when that white cream is running down the lucky guy's cock so grab your towel because things get messy in this video and watching the creamy mess will have you creating your own mess in your pants!

Some girls aren't shy about putting out and Kimmy Lee is one of those girls. She puts out on the very first date when she returns home with her date and immediately latches onto his dick with her mouth and hands. It's like she's been waiting for this very moment and she does a fabulous job of showcasing her cock sucking skills. Satisfied with showing the dude what her mouth can do, she bends over the arm of the couch and lets him slide his dick raw into her from the back and that's when the screamer in her emerges.
She starts off with slight moaning that increases with each thrust and the moaning only gets louder when she mounts the erect prick and rides it hard while her boobies sway wildly from side to side. The girl on top in reverse cowgirl position is a preview of what is yet to come which is a balls deep sideways fucking that's so intense it makes Kimmy Lee's date burst a nut!