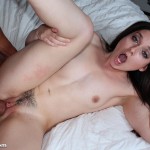 Curiosity killed the cat or in Amy Faye's case, curiosity led to her getting her tight holes filled with big cock. This intense tiny sex episode from Petite18.com will put a smile on your face if you like your teen pussies well trimmed but not completely bare but even if you have no preference when it comes to hair down under, you'll get a kick out of watching this brunette's extra tight holes getting drilled by a very thick cock!

Amy Faye is nosy by nature and today she's going to pay for it big time. Pike busts her going through his stuff and he feels like the only punishment fitting for her crime is to thrust into her mouth and cunt repeatedly until she promises never to go snooping into his stuff again. He starts off by jamming his thick cock into her mouth, almost causing her to choke on the hard meat but she manages to squeeze every inch of it into her mouth without gagging. Then the horny guy lays back on the bed and watches as the sexy teen babe mounts him and sinks her bushy twat onto his erect boner.
She moans as the big cock pierces deep into her womanhood sending shock waves up and down her spine but this is just the beginning. Pike tells her to ride his big cock in the cowgirl position and she complies, grabbing her ass cheeks as he slams repeatedly into her twat while licking her small tits. Then he bends her over and fucks her doggystyle making her scream louder than ever before finishing off by fucking her sideways! Surely Amy Faye will never snoop again, unless she just wants another big cock fucking!