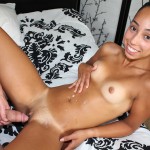 Raven Hart and her man have been dating for a while and she's been a good girl as far as keeping her legs clossed and not giving him access to her pink jewel but on this particular day, the curly-haired teen hottie is more than ready to take things to the next level much to Sean's delight. He's been waiting for the day he can sink his big rod into her holes and the excitement and eagerness is evident on his face as he plows into her in this episode from Petite18.com

One of the highlights of any romantic relationship is the minute a couple decides to get past first and second base and do the horizontal mambo jumbo although in Raven Hart and Sean's case, that horizontal mambo jumbo involves a wide range of sex positions besides horizontal. It kicks off with the sexy tanned teen sucking on her man's cock and then things escalate from there. She bends over and lets him fuck her hard from the back and then she bounces on his cock in the reverse cowgirl position before giving him an eyeful of her tits in the cowgirl position.
Clearly Raven Hart has been waiting for this moment as much as Sean has because she can't wait to show off her impressive moves and when he flips her to her side and enters her sideways, she moans as she reaches down to flick her tingling bean. The self-hand stimulation coupled with getting fucked deep and hard makes her cum just as her man pulls his cock out of her tight twat and splashes his seed all over her body!