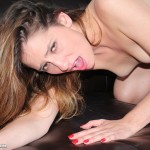 To say that Lucy Dunne is flexible would be the understatement of the century but right up there with her flexibility is her ability to make the sexiest sounds during sex and this video from Petite18.com captures both her skills with the utmost precision. The hot brunette teen hooks up with Pike right in the living room and he fucks her tight teen pussy so good that she screams her lungs out. Not only does he fuck her in multiple positions though, he also marks his territory by spreading his creamy seed all over her clean shaved pussy!

The face Lucy Dunne makes as Pike drills deep into her pussy will give you recurring wet dreams all day and night today because you've never seen and probably never will see something that extraordinary ever again. The naughty teen wants to welcome the much older guy into the neighborhood but instead of bringing him a conventional house warming gift, she brings him her shaved and wet pussy and invites him to play in it bareback.
Pike is not a fool so he obviously doesn't turn down the opportunity to fuck such a cutie and he bends her over his couch and sinks his monster cock into her extra tight pussy gaping it as every inch disappears into her. Lucy Dunne has never been fucked by a man as hung as Pike and it clearly shows on her face as she screams with each thrust. The screaming serves as motivation for Pike to keep pumping hard into her right until the very last second when he pulls his cock out and splashes his semen all over her freshly fucked twat.