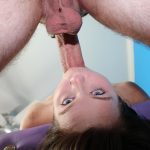 All Jennifer Bliss wants is a full body massage to help her relax but as Brad is working the kinks out of her hot body, he notices just how wet the brunette teen is in between the legs and decides to take full advantage of that by first working his fingers into her wet pussy and then asking her to suck him off. Being the good girl she is, she opens her mouth wide and then later in this video from Petite18.com , she's as generous with her tight twat and that generosity is rewarded with a mouth full of cum.

Brad knows he's got a good thing going when he lands Jennifer Bliss. He gets especially excited when he notices her body's response to his touch so he boldly works his way down to her pussy and when she parts her legs willingly, the horny masseur knows he must take advantage of this opening. He makes the hot teen babe flip over and then drills his cock into her mouth, almost choking her! Then he eases up and watches her wipe a mixture of drool and precum from her mouth as she prepares to mount his cock.
Jennifer Bliss loves being in control so its no surprise that once she joins Brad up on the massage table, she immediately impales herself on his erect cock and rides it hard. Then he takes over and dominates her from the back before flipping her on her back and pining her legs back as he drives into her repeatedly. The intense fucking drives him to the edge of orgasm so he pulls out and unloads into her mouth!