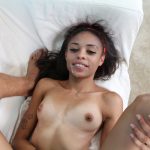 There's nothing hotter than cum on a teen's face especially if the teen in question gets off on getting her face caked with jizz. Isabella Gonzales is a cum loving nympho who truly enjoys cum facials so when she hooks up with her hung step dad in this hot scene from Petite18.com, she's happy to get her tight pussy stretched by his big dick but she's beyond thrilled when he pulls out of her and empties his cock on her pretty face. That satisfied smile at the end of their fuck session, as cum drips off her chin, is absolutely priceless.

Isabella Gonzales is in trouble and she needs her step dad to bail her out of that trouble but his help comes with strings attached. He's always wanted to bury his cock inside her tight teen pussy but never had the chance to, until now so when she comes to him for help, he agrees to help her as long as he gets to fuck her. The petite babe is so desperate that she agrees to do whatever it takes to get the help she needs so she opens her orifices and offers them to her step father for a pounding.
First he starts with her mouth which is so tiny, it's almost impossible to fit his dick head into it but he crams it into her and she dutifully sucks it until the older man bends her over the couch arm and thrusts his huge dick inside her pussy from the back. Isabella Gonzales moans and digs her fingers into her ass cheeks as the big dick plows into her. She's enjoying every second of being fucked by her well endowed step dad and when he's had his fill of her pussy, he pulls out and splashes his creamy jizz on her face!