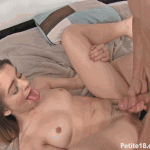 Joseline Kelly is out of fucks to give. She fucks her friend's brother – and nonchalantly admits it. Then she lures her stepbrother into her room, binds him to her bed and fucks his brains out. She doesn't give a damn that she shouldn't be fucking her step sibling and even though she tells him not to tell her mom about their little sex adventure, she really doesn't care if he does. The only thing she cares about is getting fucked and as this video from Petite18.com shows, she gets fucked real good!

Its not surprising at all that Joseline Kelly is as horny as she is. Its also not surprising that she's willing to fuck anyone she crosses paths with. The first person on her fuck list is her step brother who walks into her room thinking he's going to check out her new mattress. He does check it out alright but then he also gets to take it for a test drive. His step sister's horniness catches him off guard and being tied to the bed is something he didn't anticipate but he goes with the flow of things.
The slutty teen kicks things off by blowing her step brother in a way that gets him even more turned on than he already is. He's a man of very few words but Joseline Kelly is vocal and let's him know what she wants him to do to her. After sucking him off, she mounts him and rides his cock while moaning so loud, the neighbors can probably hear her. Then her stepbro bends her over and fucks her doggystyle before pulling out and shooting his load all over her body and face!