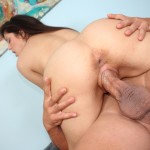 Every neighborhood needs a Natalie Monroe on their welcoming committee because she's a loose babe who goes above and beyond to ensure her new neighbors settle peacefully into their new digs. Pike finds out just how helpful the brunette teen can be when she offers to help him move in and then ends up with his dick crammed far back down her throat and into her wet pussy all in one evening. The full length video of the slutty teen getting pounded raw awaits you in the Petite18.com member area.

Moving furniture is a dull and boring task but not if the furniture in question is a sofa bed and the person helping you move is a horny teen called Natalie Monroe. Curious by nature, she wants to find out if the sofa bed can really be used as a bed and Pike is only too happy to oblige her. He drops his pants and pokes his thick cock in her face so she can wet it with her saliva and she really goes to town on it swallowing it as far back as she can before licking every last drop of pre-cum off the cut head.
Then its off to test the sofa bed so the slim brunette with perky tits lays on her back with her legs spread wide as Pike slides his thick man meat into her wet and extra tight pussy. He pumps into her as she rubs her clit and then she jumps on top of him and rides him hard before he regains control by taking her from the back and fucking her hard. When he's ready to cum, he pulls out of her warm pussy and splashes his seed all over her butt cheeks!