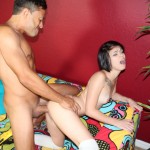 The look of horror on Bailey Page's face as a monster of a cock rips into her extra tight pussy is one that will haunt your wet dreams for years to come. The sexy brunette teen underestimates the size of her new man's cock and thinks she can take it all into her wet pussy until he completely undresses and unleashes his monster schlong on her. Shocked beyond words but always a trooper, the pint-sized babe bends over and screams for her dear life as every inch of that big cock is rammed into her pussy in this hardcore teen fucking video from Petite18.com

Bailey Page has a brand new man and she's super excited about getting some new dick especially since she hasn't gotten laid in a while but what she doesn't anticipate is that her man has got a monster dong and he intends to fuck her with every single inch of it! She sucks it for him, lubing it up real good and then she bends over as he eases it into her.
When half of it hits her cervix, she screams out in a mixture of pain and pleasure and this only encourages him to ram his dick even more into her tight pussy so he pushes even more of his man meat into her and fucks her just a little bit harder making her cream all over his giant cock. He then yanks the big cock from her dripping wet pussy to her mouth making her taste herself before cumming all over her!