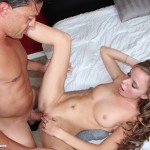 Who needs enemies with a sister like Pristine Edge? The petite brunette hottie has long harbored a secret crush on her sister's man and when she gets a chance to fuck him, she doesn't hesitate to seize it. This episode of Petite18.com shows that this horny teen will do just about anything to feel her sister's man's dong sliding in and out of her tight pussy and she makes sure she rides his hard cock so well that she leaves absolutely no doubt which one of the two sisters is the better lay.

A word to the wise – if Pristine Edge is your sister, you need to keep your man chained to you otherwise she'll make a move on him and if he's anything like Pike, he won't be able to resist her charms or her dripping wet pussy. The brunette teen with perky small tits is on a mission to seduce her sister's husband and when the two of them are left alone, she latches onto his thick cock and sucks it hard while exposing her tight naked body to him so he can drool over what he's about to feast on.
Then she hops onto his wet dick and rides him as hard as she can before letting him pin her to the bed and thrust repeatedly into her clean shaved pussy. Pristine Edge moans as that big cock drives bareback into her tight pussy, gaping it with each thrust and her legs tighten around Pike's shoulders as she feels an orgasm building up inside her. He cums at the same time she does and he deposits his creamy load on her sweet pussy.