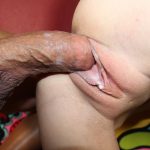 This episode of Petite18.com is the porn version of David and Goliath where Bailey Page is David and the big cock she takes on is Goliath. The tangle that ensues between the two is one for the books and in the end, they both emerge victorious! This petite teen with an intense love for big cocks can't help but seduce her friend's dad. She knows he's off bounds to her but he's walking around with a monster dick in his pants and the nympho in her just can't let him leave without exploring his gigantic man meat!

Their flirtation starts off on the colorful couch which is also where the duo decide to do the horizontal mambo jambo. With her white knee high stockings still on her feet, Bailey Page hops onto the older man's cock and rides it hard. She moans as she feels it ripping through her insides but if she thought this is all the moaning she's going to do in this episode, she's in for a very rude awakening because he flips her to her knees and thrusts into her from the back, making her scream even louder than before.
Bailey Page has never been fucked by a cock this big and every time it rams into her, it gets coated with her creamy lady juice. She is without a doubt the tightest and wettest girl her friend's dad has ever fucked and he savors every second he's inside her until he has his fill of her, then he pulls out and showers her with his warm jizz.