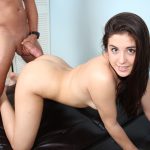 Some girls like to make love but Natalie Monroe loves to get fucked hard, without a condom and Pike gives her just that in this episode from Petite18.com. She's the lone member of her neighborhood's welcoming committee and when she helps the hung stud move in, she can't help but gravitate toward the massive schlong swinging wildly in his pants. Lucky for her Pike is in a very generous mood and when she begs him to fuck her wet pussy, he gladly obliges her, fucking her harder than any man has ever before and then finishing on her ass!

Natalie Monroe needs a man who can screw her brains out and Pike is that man. He's experienced and he has a big dick both of which come in handy when the super hot brunette takes it all off and offers herself to him. He holds out his dick for her to suck and she latches on, savoring every inch of the cock before cramming as much of it as she possibly can into her mouth. The saliva drenching isn't necessary however given just how wet her twat is and when Pike switches from her mouth to her pussy, he has no problem sliding right in.
As the tip of Pike's cock disappears into her tight pussy, Natalie Monroe gasps and then moans as she steadies herself on the sofa bed. She pulls back her pussy lips granting the lucky fella even deeper access into her womanhood and then she hops on top of his dick and rides him before he bends her over and drives into her from the back. The view of her asshole as her pumps into her must be so appealing because it doesn't take Pike long to cum and when he does, he turns her perfect booty into his own personal cum dumpster.