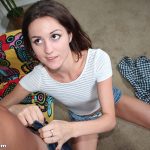 Renee Roulette is in a bit of a jam which is how she finds herself at Pike's door step begging for help in this scene from Petite18.com. He doesn't mind helping her out but he needs something in return and it can't be money so the tiny teen hottie offers up her wet orifices for a pounding. She doesn't realize just how well endowed Pike is until its too late to back out of the agreement but she's a lady of her word so she opens her mouth and legs wide and lets the lucky guy stick his big dick inside her until he nears completion which is when he pulls out and splashes his jizz all over her pretty face.

Pike is a good guy but his help usually comes with a price tag attached and Renee Roulette simply can't afford his price but she has a pussy and that's priceless especially to an older man like Pike who hasn't had a pussy that tight in years. The sexy brunette teen yanks up her mini skirt after sucking Pike's big dick and she mounts him, settling into his lap as she lowers her snatch on his erect dick. Both of them inhale deeply as inch after inch disappears into the teen's extra tight pussy.
She grabs onto her ass cheeks as the cock pierces her insides and she moves slowly while her pussy gets used to the size of the dick and once that happens, Renee Roulette rides that dick like a true cowgirl. Pike then bends her over and fucks her doggystlyle before laying her back and pinning her leg up in the air while fucking her in the missionary position as she rubs her clit. His final show of dominance comes when he gives her a very memorable facial.