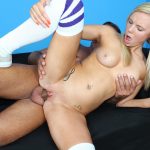 Sunny Marie can have any man on the planet she wants but she's got her eyes fixed on her step dad. He's hung and she badly craves the package swinging in between his legs despite the fact that the massive package legally and technically belongs to her mom. She waits until her mother is gone and then she makes a move on her stepfather in this scene from Petite18.com. He's horny and open to the idea of dipping his cock into some tight teen pussy so he gets naked on the couch and proceeds to fuck the shit out of the blonde nubile babe!

Never in her wildest dreams did Sunny Marie imagine she'd get a chance to fuck her step dad. Sure, she thought about it a whole lot but she never dreamed that her fantasy would turn into reality until the day she actually approaches him suggestively and he gladly welcomes her advances. She's eager to impress him so she slobbers all over his big dick, swallowing as much of it as she can cram into her mouth as possible and she's blown away by how big it really is.
She's a size queen and knowing that the big schlong will soon be cruising into her insides excites her to no end so she hurriedly finishes sucking the cock and then bends over and moans as the hung older man slams into her from behind. When he's done taking her doggystyle, she mounts him and rides his big cock while rubbing her clit and then she lays on her sides for a sideways fuck so hot it makes both of them cum hard. Fucking her step dad is every bit as good as Sunny Marie imagined it would be!