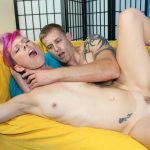 A little choking never hurt anyone, just ask Dani Peach who likes her sex a little on the rough side. Well, she's met her match in Billy, a hung guy who likes to yank hair, choke and smack behinds while getting his fuck on which is exactly what he does in this sizzling hot scene from Petite18.com. The horny duo doesn't waste much time on small talk because their hormones are raging out of control and a little bit of sucking and licking soon makes way for some really intense fucking on the couch that ends up with both of them coming really hard.

Dani Peach flirts with Billy with only one intention in mind – she wants to fuck him, not date him or marry him, just to feel his dick penetrating her tight pussy and Billy is no fool. He can see exactly what the goth babe is trying to do so he plays along and whips out his prick, giving her a chance to suck it real good before he hoists her up on top of it.
As her pussy sinks down on the big dick, Ms. Peach moans really loud but she takes it like a pro and even flips into the cowgirl position and continues to ride Billy's dick this way. Then Billy rolls her on to her knees and takes her from the back before holding her sideways and choking the heck out of her while fucking her hard. This is exactly how Dani Peach likes to be taken and having a hand around her neck gets her so aroused that she cums all over Billy's dick!