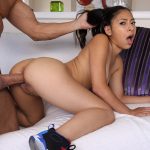 Nicole Ferrera is a walking advertisement for sluttiness. She's always horny as hell and ready for a romp in the sack especially if she finds an older man willing to fuck the hell out of her. Lucky for her, there are tons of men out there who want to slide their dicks into her wet and tight hole like the lucky dude in this scene from Petite18.com who not only gets to fuck her but he even yanks at her hair while slamming into her! The look on her face as the sex gets a little rougher is not to be missed!

Sweet babes like Nicole Ferrera always unleash a few surprises when the camera turns on them and she definitely lives up to that hype today when she strips naked and drowns a big cock in her mouth. She's desperate to be fucked and will do whatever it takes to feel a dick inside her so she bobs her head up and down the hard rod while squeezing her small perky tits together so her fuck buddy can grope and pinch them.
Once she's had her fill of his cock, the athletic babe climbs on top of him in the reverse cowgirl position and with her legs spread as far apart as they can go, she grinds up against the older man's thick cock. He holds her legs steady as he buries all of him inside her and then he flips her over and pulls her hair while fucking her. This is something Nicole Ferrera has never experienced before but something she clearly loves. In fact she loves it so much that she actually comes all over the throbbing dick!