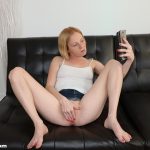 Let the record show that Alyssa Hart is the best step sister ever! The petite hottie is feeling horny so she pulls up her step brother's pictures and starts masturbating to them. This isn't something most sisters would do but this babe isn't like most people out there. She has absolutely no shame and when her brother walks in on her finger fucking herself, she tells him to drop his pants and then she mounts him and rides his big dick hard! So yes, as the fucking in this super hot new video from Petite18.com shows, this blonde babe has earned the best step sister award!

When it comes to siblings, there is a certain line that shouldn't be crossed. Alyssa Hart knows this and so does her step brother but they're both too horny to care about lines. Things between the two escalate pretty fast once they realize that they both want the same thing. He wants to rip into her tight twat and she wants his big dick inside her so bad, she can hardly contain herself. She wants to taste him before he fucks her so the tiny teen babe opens her mouth wide and crams as much of the big dick as she can inside.
Cock sucking aside, Alyssa Hart can't wait to feel the big dick pounding into her little pussy so she puts her face down and ass up in the air and moans as her step brother slowly enters her from behind. His dick is huge, almost too huge for her tiny frame but she's a trooper and soon enough her juicy box swallows up his whole big dick. He fucks her doggystyle then she mounts him and rides him before he slides her on her back and pounds deep into her until they both nut hard!