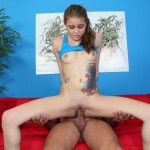 Working out is monotonous and boring but not if you're Ashton Monroe. The teen hottie is getting her exercise in when Warren decides to join her but the second her eyes land on his package, its goodbye working out and hello sexy time. The older man knows the teen will burn more calories from riding his thick dick anyway so he pulls it out of his pants and lets her go to town on it. This is the best kind of exercise the naughty nympho has ever done and she gives it her all in order to maximize the benefits.

What sounds like fun – performing one exercise routine after another or raising your heart rate through fucking? For Ashton Monroe, its definitely the latter because that's exactly what she chooses in this video from Petite18.com. She's horny as hell and ready to fuck so when Warren stands so close to her, all her hormones go into overdrive and she just about jumps all over him. Lucky for her, the lusty feelings are mutual and she doesn't have to beg in order to get Warren naked.
He's always fantasized about banging a hot fully legal teen and now with one standing in front offering up all her holes for a pounding, the mature man feels like he's hit the jackpot. He watches with glee as Ashton Monroe grabs his big dick and crams it into her mouth, then she surprises him by mounting him and slowly sinking her wet pussy on his erect boner. He's huge and she's small and very tight so it takes a minute for her moist pink jewel to get used to his massive size but as soon as his last inch disappears into her, she rides him hard until he nuts all over her sweet face!