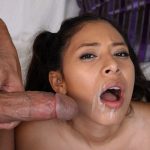 Nicole Ferrera shows up to our studio horny and ready to fuck. She tells us she loves fucking older men so we surprise her with an older pervert who likes banging teens! Its a win-win situation for both of them and for us because we get to watch these two horny people go at it like there is no tomorrow. A little kissing and fondling gets them well acquainted but the passion burning between them is undeniable and as this video from Petite18.com shows, they can't wait to tear off each other's clothes and rip into each other!

We don't know exactly what Nicole Ferrera thought she'd get by paying us a visit but as she slobbers over the older man's dick, there's no doubt that coming here was the right call. She's very good with her mouth and unlike most chicks her age, she knows that balls need some attention too! This slutty teen takes the big balls and swirls them in her mouth before finding her way back to the throbbing cock. Now that's one way to really get a man in the mood Nicole!
Ball and cock sucking aside, Nicole Ferrera is a firecracker with a mouth on her. She talks dirty without any inhibitions and she rides that long hard dick in both cowgirl and reverse cowgirl. Come hell or high water, the feisty teen is determined to drain this lucky older man's balls today! A balls deep doggystyle is what makes her cum and then she slides to her knees and opens her mouth wide so the man can empty his dick inside her!