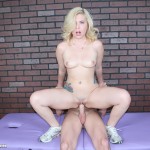 Sex is not fun unless its hard and fast. Just ask Rikki Rumor who gets her tight little cunt pumped so hard in the massage room, her tits bounce around uncontrollably. Of course the real reason she goes to the masseur is to get a massage but they both forget all about that when she notices his boner. He thinks his dick is all the stress relief she needs and as this video from Petite18.com shows, she agrees. Trust us, you've never seen a teen pussy getting tore up the way this dude tears this one up!

The second Flynt's rock hard cock accidentally brushes against Rikki Rumor's ass, she forgets how much her body is aching. Suddenly, all she can think about is the hard cock and how much she wants it inside her. The horny massage therapist is eager to be inside her holes too so he positions himself in front of her and watches with glee as she shoves his dick into her mouth. Rikki is one cock starved babe because she gobbles that prick up as if she's in a cock sucking competition.
Flynt moans as the blonde nympho services him orally then he grabs her hair and thrusts deep into her mouth before slamming her on the massage table and humping her hard and fast! You'll get a kick out of watching Rikki Rumor's tits bounce up and down as Flynt shatters her pussy. When the hard fuck is over, Rikki takes that dick from her pussy to her mouth. Then, in a reversal of roles, Flynt lays back and watches the slutty blonde teen drain his dick with her hands!