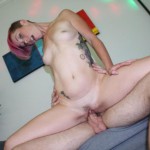 Strippers know that private lap dances is where the big bucks are. This explains why Dani Peach ends up with a client in the VIP room. According to club rules, he's in there for a private dance but the mutual understanding between the two is that he's going to get way more than just a dance. In fact as this video from Petite18.com shows, he gets a dance, a blowjob and a bareback fuck! Performing all three means a very hefty tip awaits the punk stripper for services rendered.

Things between Mike and Dani Peach get heated as soon as they make it to the back room. He knows the clock is running on their time together so he immediately unbuckles his pants as she steps out of her sexy outfit. Then she gyrates on his bare cock and thighs before sliding to her knees and sucking him off. She looks up seductively at him and he responds by moaning. This verbal approval prompts the stripper turned cock sucker to blow her client even harder. With the sucking out of the way, Dani hops on top of Mike and starts to ride his dick.
Dick riding comes easy to Dani peach because of years spent twirling up and down the stripper pole and the way she dominates Mike's dick in the cowgirl and reverse cowgirl positions brings him to the edge. The only way for him not to nut is by taking control, which he does when he bends her over the couch and penetrates her from the back. Her loud moaning is all the proof he needs that he's hitting all the right spots in her twat. He definitely gets all his money's worth from the slender teen stripper!