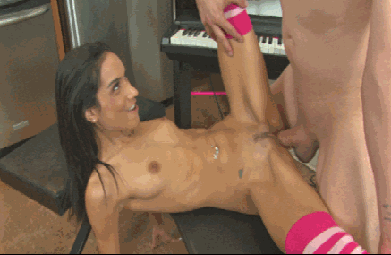 Tia is supposed to be meeting her music instructor for a piano lesson but she's not in the mood to learn today and even if she were, she doesn't have any money to pay for the lessons. Lucky for him, she does have her pussy and mouth and she's willing to trade them for music lessons which is exactly what she does in this episode of Petite18.com. The athletic teen hottie takes it all off and spreads her pussy lips so her music teacher can dip his tongue and cock into her and once he gets a taste of her, he's totally hooked!
Pianos are good for so many things, including providing a perfect back drop for a steamy fuck session as is the case when Tia hooks up with her piano instructor. The naughty vixen just wants to fuck not learn so she unzips her teacher's pants and pops his cock into her mouth, sucking it hard and smiling as she watches it harden with each lick. She then perches herself up on the piano so he can return the favor and when he sticks his tongue into her wet pussy, she can't help but moan.
The tongue licking is just foreplay and a glimpse into what's coming next which is a hardcore bareback fucking for the horny Tia. The hung older man pins back one of her legs and slides his dick into her, slowly at first, and then when he's fully inside her, he pumps harder and faster until she can't take it anymore. Then he pulls out and releases his monster load on her pretty face!