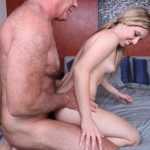 Shrinks would have a field day trying to analyze why a hottie like Sofia Carter loves older men but we're not shrinks and we're not going to focus on her obsession with guys fit to be her grand parents. Instead, we'll focus on how good she looks with a dick inside her pussy and how incredibly hot she looks as she gobbles up balls in this hardcore video from Petite18.com. She definitely likes her men on the older side and her sex purely bareback and as if all that isn't enough, she's a big fan of cum baths and drinking cum. Is she perfect girl? Yes!
Sofia Carter is beyond thrilled when Mr. Johnson invites her back to his apartment. She knows exactly what he has on his mind and she has the same thing on her mind too so when they get to his place, all their clothes come off and his finger disappears into her wet snatch which he pokes and flicks while she strokes his cock. Then she decides to show the mature man what she can do with her mouth by sucking him off and even letting him tea bag her.
Tea bagging aside, Mr. Johnson bends the hot teen over and slides his freshly sucked dick into her raw. He grabs her by the hips as he thrusts deep inside her making her moan over and over again. Then Sofia Carter reaches underneath her and rubs her clit while the older man pounds into her until he pulls out and splashes his load all over her pretty face and even in her mouth!