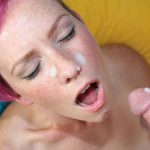 Goth teen Dani Peach is fresh out of high school and ready to fuck her way to adulthood which is why she hooks up with Billy in this video from Petite18.com. He's so much older than her and so much more experienced than she is which makes him the perfect candidate to take her for a wild ride down nasty-ville. Billy doesn't object but he certainly makes her work for it by making her cram his dick into her warm mouth and then sitting back and watching her ride his wet dick until she can't take it anymore.

Dani Peach flirts wildly with Billy knowing fully well what the consequences of that are and when he drops his pants and exposes his schlong, she can't help but bend over and plug it into her mouth. She gags a bit as her mouth gets used to the size of the big dick but once she finds her rhythm, she puts on a heck of a performance. After a thorough oral examination of the hard prick, the tatted up punk princess parks her pussy right on top of Billy's cock and moans as it slides into her.
She's ridden a few dicks in her life but none cruised through her body the way Billy's does and Dani Peach moans each time she bounces on it. The reverse cowgirl position turns into the cowgirl position with her small tits smothering Billy's face and then he bends her over and makes her scream as he thrusts into her. Then for the finale, the horny man flips the lean babe onto her back and fucks her that way before ejaculating all over her face.