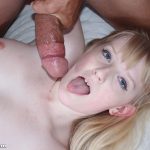 Slut is a title Krystal Orchid embraces without shame but she doesn't appreciate having it written on her walls and yet that's what happens when she fucks her best friend's boyfriend and she retaliates by vandalizing her room in this scene from Petite18.com. The blonde teen needs to get rid of the offensive word so she hires Pike to do the job and she finds out right on the spot that he prefers a hard pounding into her holes in lieu of a cash payment. Since she has nothing to lose anyway, the vibrant babe agrees and undresses to give the hung guy access to her goodies.

Pike walks into Krystal Orchid's room never expecting to get laid but he asks anyway and is pleasantly surprised when she doesn't reject his advances. Instead she drops her clothes and latches onto his dick with her mouth, sucking him off hard before hopping onto his dick and riding it while moaning. She rides it in the reverse cowgirl position before flipping over and straddling him in the cowgirl position which gives him a great view of her bouncing tits as he buries his cock deep inside her twat.
Krystal Orchid is a wild child and she lets that side of her come to the surface as she goes from being on top to being on her back with Pike still thrusting his thick dick into her. She closes her eyes and moans while rubbing her clit and Pike pulls her thighs close as he gets closer to climaxing. The fucking gets intense and the moans get louder and soon enough, both of them are cumming hard. Pike pulls his cock out of her tight hole and splashes his seed all over her.