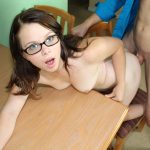 The Geek Squad nerds rescue everyone from their computer issues and Jennifer Bliss rescues them from their horniness. Correction – she provides relief to the one geek squad nerd who shows up to fix her computer in this video from Petite18.com and from the looks of things, he has never gotten this kind of treatment before but its certainly something he could get used to. The slutty brunette on the other hand is used to sucking and fucking cocks so she definitely pulls all the stops and puts on her best performance to date!

If there is one thing about nerds Jennifer Bliss doesn't know, it's that they aren't easily distracted mid-task which explains why the computer expert in her home doesn't respond to all her flirting but once he fixes her computer, all bets are off and he flirts right back until their mutual flirtation lets to his pants coming off and the cock craving teen sinking down on her knees and taking his dick into her mouth. She savors the tip of his cock and flicks it teasingly with her tongue then she slowly pushes the rest of his cock into her mouth.
The guy can't believe the kinky turn his day has taken but he doesn't complain about it either and things get even better when Jennifer Bliss spreads out on the wooden table and rubs her clit while inviting the nerd to fuck her. He immediately enters her and thrusts into her, gently at first but then gradually increasing the pace of his thrusting until he's had his fill of her tight teen pussy. You won't believe where on her body he drops his thick load!