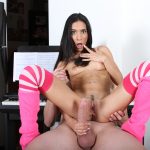 Its clear as daylight that Tia couldn't care less about her piano lessons and she doesn't even have money to pay for them but she does have a mouth and hands she can put to work in exchange for lessons especially since she's been lusting after teacher for a while now. He accepts her trade in this video at Petite18.com and what happens next is a piano fuck so hot, it just may be the best music these two have ever made together. The mature teacher gets to thrust into the teen's tight pussy and she gets to cum multiple times before getting her face jizzed on.

Tia is very many things and a negotiator is at the top of that list because she's broke and doesn't have any cash to pay for her piano lessons but she manages to sweet talk her way into her teacher's pants and once there, the slutty teen gives him multiple reasons to forgive her debt. She starts off by sucking him off really good, getting super turned on as she feels his cock expanding with each lick from her mouth and then she lays back on the piano bench and moans as the older man thrusts into her.
Then she takes over by climbing on top of her teacher and riding his dick hard. Being on top of him is so empowering and the longer she rides him, the harder she cums all over his dick. She has orgasm after orgasm in this position before he flips her to her knees and fucks her doggystyle. Getting banged by her older, more experienced teacher is definitely as good as Tia imagined it would be and it only gets better when he creams her face!