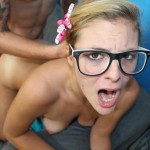 What could possibly happen if you leave a horny geeky teen home alone with a hung inked dude? A lot! Kendra Lynn has always fancied Bill but never made a move on him because she thought he was simply way out of her league but when the two of them find themselves all alone, she takes her chances and makes her naughty thoughts known. As this video from Petite18.com shows, putting herself out there really pays off big time for her! Even though this is her best friend's brother and fucking him is a no-no, Kendra is too horny to care.

Bill just wants to get his dick wet and he doesn't care if the hole he plugs it in belongs to his sister's friend. She wants him as badly as he wants her so they just give in to their lusty feelings and bang each other right on the small couch. The nerdy Kendra Lynn is very good with her mouth and she wants to show the older guy just what she can do with it so she wraps it around his dick and sucks him real hard. The pressure from her sucking makes Bill's dick even harder and the more she sucks him off, the more he wants into her tight teen pussy.
She grants him access to her wet pink jewel by hopping on his erect dick and riding it in the reverse cowgirl position. Kendra Lynn is a screamer and her screams are music to Bill's ears every single time he thrusts into her. She goes from being on top to laying on her side where she holds her leg high up in the air and watches as the long pipe thrusts in and out of her juicy cunt. Then its onto her back for an even rougher pounding before Bill finishes on her glasses!