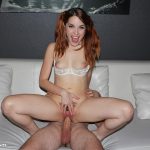 Brad is about to get a taste of his first immigrant pussy and he just can't wait. Armana Miller, his hot neighbor is not familiar with American culture so the hung stud decides to teach her about the joys of American dick first. The two start making out on the couch and as this video from Petite18.com shows, things quickly escalate into a full blown fuck. They don't even make it to the bedroom and since Brad wants the immigrant's experience to be as authentic as possible, he goes skin to skin with her as he pounds into her tight fuck hole with no rubber.
Armana Miller has heard a ton of great things about America and she's eager to check them off one by one on her list. Brad is on hand to help her cross dick off the list and he very happily offers up his big dick to the foreigner. She may be new to the States but she's not new to sucking and riding cock and she proves this by jumping in Brad's lap and riding his dick hard in reverse cowgirl. She knew he had a big dick but she didn't realize just how big it really was until she sank her pussy on it and felt it ripping into her womanhood.
Still though, the horny babe persists and holds steady as her twat swallows up the giant dick. Then she turns over to face Brad as she straddles him cowgirl style. She digs her nails into his bare thighs as she grinds her pussy on his throbbing cock and when he's about to nut, she hops off him and pops his dick into her mouth. Armana Miller can feel him tensing up as he nears explosion so she sucks him off faster while stroking his dick until he nuts all over her tongue and chin. Welcome to America Ms. Miller!